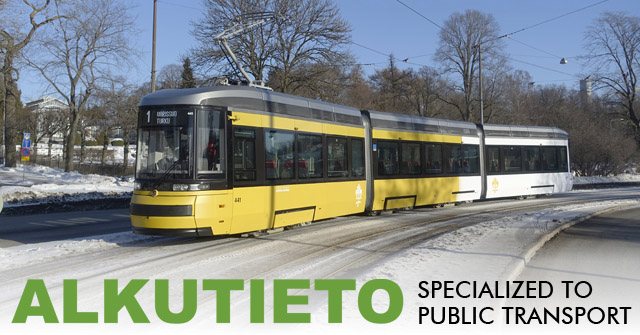 Urban transport expert services
Alkutieto Oy offers consultant and education services for urban and public transport, specially for urban rail transport.
The base of our work is international research knowledge and experience from urban transport in several cities. We understand Life Cycle Approach in reviewing the traffic system or part of it during it's whole life cycle, taking into account both technical and economical aspects.
Our special skill is in Light Rail, urban rail transport on streets or in own right of way. This includes both state of the art in modern technology and operating economy, including impact for urban economy. We also understand the issues of street planning and city planning when implementing light rail or tram systems in urban environment.
When working in Scandinavia, we also understand the Nordic climate conditions. It is how to make the trams and their track to function during long low temperature periods and frozen soil. But also the challenges of short temperature and humidity changes within hours.
We also understand the conditions of EU procurement legislation. And we have practical experience of how to manage the usual court cases against procurement decisions.
---
Original page 18.10.2017. Latest update 15.4.2018.